Venue Access
The stairs to the Owens from the entrance nearest the University Chapel have a handrail. There is also ramp access at this entrance, however, the ramp is steep. The stairs to the Owens entrance off York Street also have a handrail, but there is no ramp. The main floor of the Owens is wheelchair accessible. Our second-floor gallery is not accessible. Two flights of stairs lead to the second floor. LED lights are used throughout the building. The Owens welcomes guide dogs and other service animals.
All parking on campus is free. See the Campus Map for more information.
Although the Owens is only partially accessible, our goal is to have a barrier-free facility within the next ten years.
Washrooms
Gendered bathrooms are located in the basement and are not wheelchair accessible. Two flights of stairs lead to the basement.
Private Visits
If you would like to visit the Owens at a quieter time, or when all staff and visitors are masked, private visits can be arranged from 9:00-10:00 am on weekdays. Contact [email protected] for more information.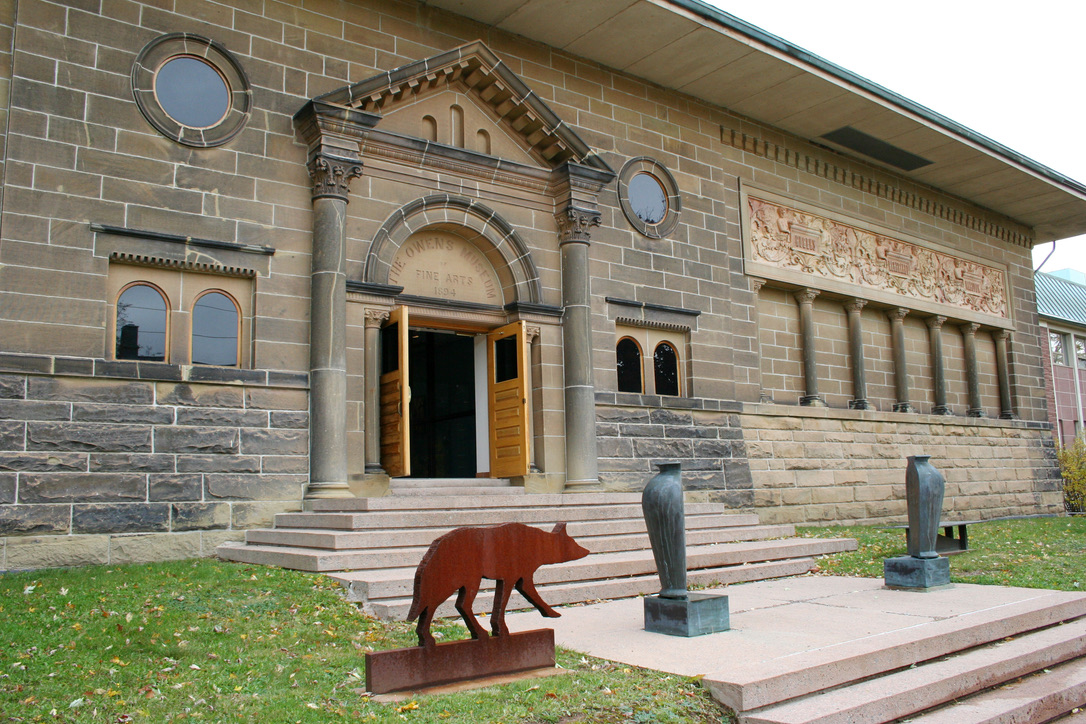 All resources are free and available from the front desk on any visit to the Owens. For further information please contact the Owens at 506-364-2574 or email [email protected].
EnChroma Colour-Enhancing Glasses
Three pairs of EnChroma glasses are available for visitors to borrow. This includes one pair for children (ages 10+), one pair for adults, and one fit-over pair for adult glasses wearers. EnChroma glasses allow visitors with red-green colour blindness the ability to see a broader spectrum of colours.
Ear Protection
Ear protection provides a sensory-friendly option for young visitors during busy public programs, or when experiencing installations with audio components.
eReaders
Customizable large-print versions of all gallery text, including labels, wall text, video transcripts, and catalogue essays, are available on eReader. These eReaders also feature dyslexic font and text-to-speech options. Front desk staff are able to provide an introduction and support for eReader users.
Captioning and Transcripts

When possible, the Owens provides open captioning for videos included in exhibitions. For exhibitions that contain videos that do not have closed captioning, transcripts are available on E-Readers at the front desk.
Events hosted by the Owens offer live automated captioning, in person and on Zoom.
Closed captioning is available for many videos on OwensTV, with new captions actively being added to the back catalogue of content.