We would like to acknowledge that the Owens Art Gallery, Mount Allison University, is located within the traditional territory of Mi'kma'ki, the unceded ancestral homelands of the Mi'kmaq. Our relationship and our privilege to live on this territory was agreed upon in the Peace and Friendship Treaties of 1725 to 1752. Because of this treaty relationship, it is to be acknowledged that we are all Treaty People and have a responsibility to respect this territory.
Pauline Young's Wabanaki/People of the Dawn was created for the Owens' exterior flagpole. Featuring two figures in a birchbark canoe paddling from sunrise to sunset, the flag represents the Mi'kmaq territory of Mi'kma'ki as a living relationship between land and sea. In the artist's words, "Land and sea, from sunrise to sunset, it is all Mi'kma'ki." The Owens is located in Siknikt, one of the seven districts of Mi'kma'ki, and the flagpole project is intended to serve as an ongoing land acknowledgement. It was initiated on the occasion the Owens' 125th anniversary and, every five years, an exhibition of the flags and their preparatory drawings will be held at the gallery.
Pauline Young is a respected Mi'kmaq visual artist from Metepenagiag First Nation. In her work, she draws inspiration from the natural environment and the legacy of her father, Philip Young, a renowned artist who exposed her to art at a very young age. Employing a variety of media, including painting, drawing, and stained-glass, her artistic practice carries forward both family and cultural traditions of storytelling and image-making.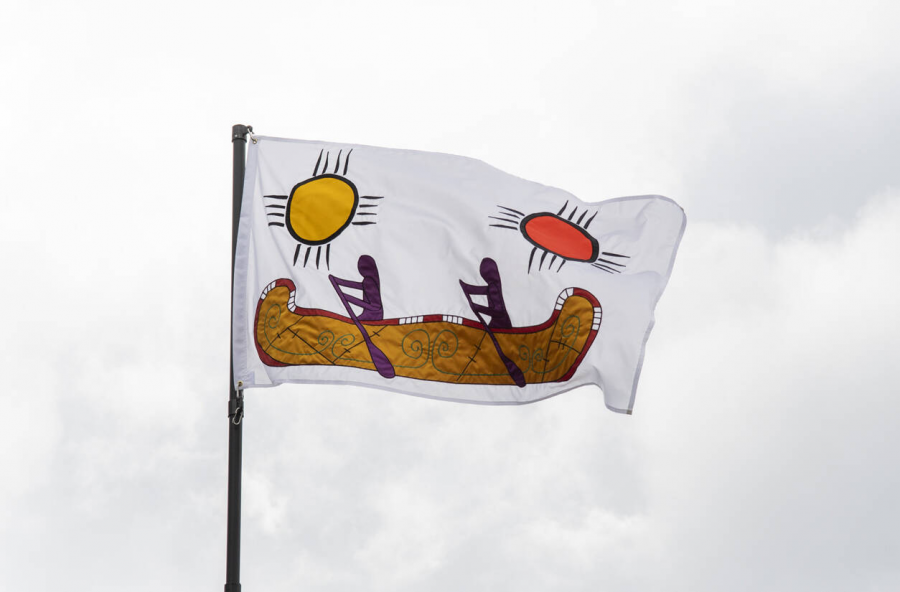 Image: Pauline Young, Wabanaki/People of the Dawn, 2020, 91.4 x 152.4 cm, Bespoke appliqué sewn nylon flag. Collection of the Owens Art Gallery. Purchased with funds from the Ruth Lockhart Eisenhauer Art Fund.