This exhibition has passed.
Room for One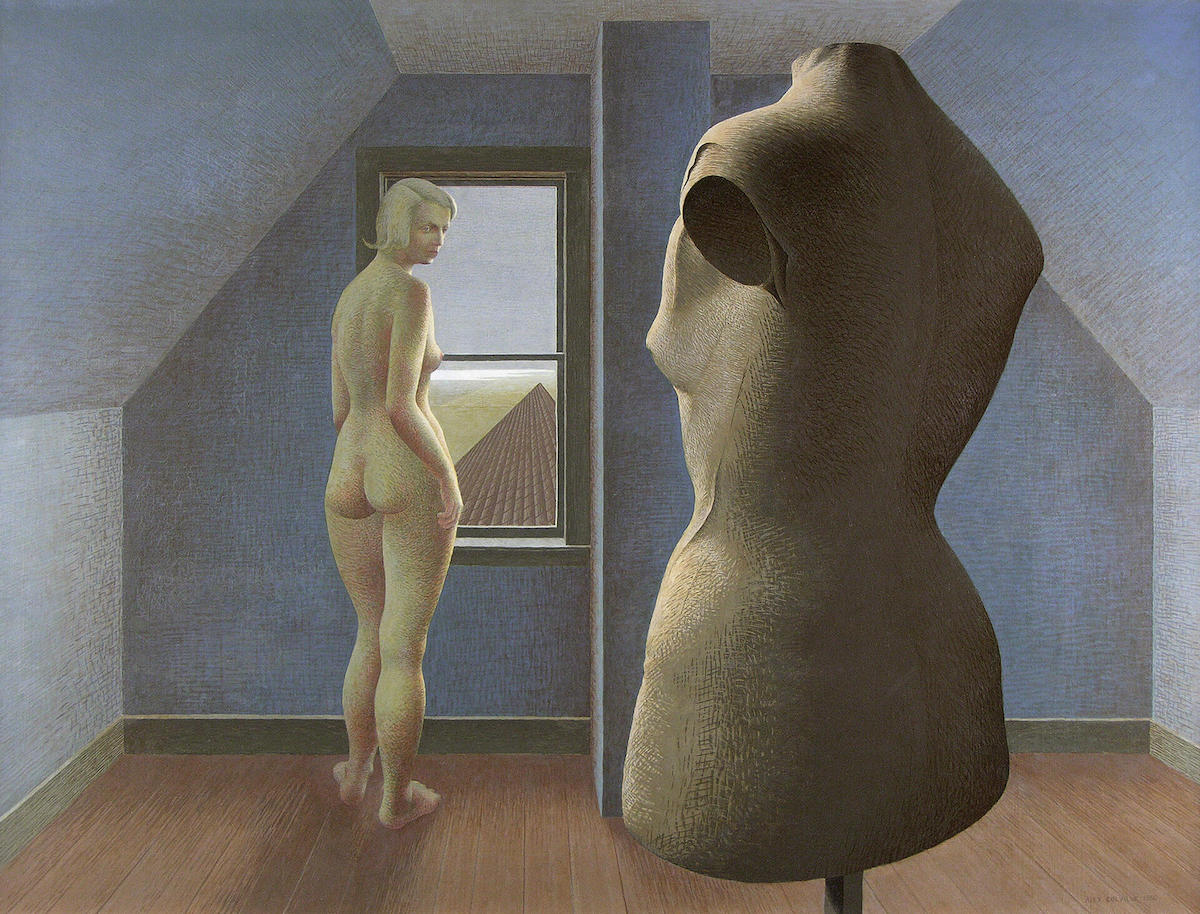 Room for One
The COVID-19 pandemic highlighted the enduring inequalities of invisible labour, which includes care and domestic work. Room for One explores this issue through a selection of art that centres women artists and considers the often-complex relationships between artist partners, their friends and families, and domestic life in general. It explores modeling as an active form of creative expression, while also considering the many forms of unpaid emotional, creative, and domestic labour that both make works of art possible and stand in the way of their creation.
When Mary Pratt was a student, Lawren P. Harris told her, "There can be only one artist in a family, and in your family, it's Christopher." While the unfairness of this assessment may at first seem historical, it reflects longstanding social inequities in which women and gender minorities are expected to be labourers first and artists second. It also belies the many ways domestic work, family relations, friendships, and community connections inspire and reinforce the creative process. Mary Pratt's work is an excellent example of these tensions. Her painting, Anne with a Compact (1986), is a comment on motherhood, the passage of time, and the female gaze, but it is also a meditation on the creative relationship between artist and model, in this case a model with a familial connection to the artist (Anne is her first child). Pratt's innovative approach to domestic subjects is foreshadowed in the paintings of Yarmouth artist Elizabeth Cann, whose portraits depict pensive, wartime and depression-era women sitting alone, seemingly caught in numbing domestic routine, or detached from oppressive social expectations. Andrea Mortson takes these themes in a different direction in the arresting painting DC Awake (2009-2010), in which a portrait of her son becomes part of a more wide-ranging exploration of images, dreams, and memory.
Elizabeth Cann, Mother and Child, c. 1945, oil on canvas, Collection of the Owens Art Gallery, purchased with funds from the Ruth Lockhart Eisenhauer Art Fund
Nude and Dummy (1950) is a significant work in the oeuvre of Alex Colville, as it marks a departure from previous artistic concerns and introduces a hallmark of the artist's later practice: the tension between private and public space. In this context, scholars often dwell upon the fraught relationship between artist and spectator the painting instigates. Less is written, however, about the role Rhoda Colville and Christian McKiel played in its creation. Rhoda, who met Alex Colville while they were both studying Fine Arts at Mount Allison University, was the model for Nude and Dummy, and it is often assumed she is standing in the attic of their family home on York Street (now Colville House), where Alex had his studio. In fact, she is depicted in the shared space of the couple's bedroom. Rhoda often modeled for Alex's work—including for the mural Athletes (1961), where she appears alongside their sons John and Graham—and this creative collaboration spanned their marriage. Christian McKiel, on the other hand, was a colleague of Colville's in the Mount Allison Fine Arts Department, where she was known for beautiful, floral still-lifes and discerning portraits. She helped Colville make the dummy depicted in the foreground of the painting, and her creative presence is signalled in this exhibition through the inclusion of the painting Flowers.
The curatorial premise for this exhibition also contains the labour of more than one person. Jane Tisdale's meticulous research on the history of the Owens Art Gallery and the Mount Allison Fine Arts Department laid the groundwork for these reflections, while Gemey Kelly's incredible paper "Elizabeth Cann's Representations of Women in Everyday Life" greatly enriched them. It is a privileged to have them as both colleagues and friends.
—Emily Falvey
Top Image: Alex Colville, Nude and Dummy, 1950, gum arabic emulsion overpainted with stand oil and damar varnishes on gessoed Masonite, purchased from the artist (1951), Collection of the New Brunswick Museum, www.nbm-mnb.ca (A51.4) © A.C. Fine Art Inc.